Damage is a mechanic in which shield and then Health is deducted by the amount listed by numbers appearing successively above the opponent and the player.
Damage as it appears on the Boss Genbu and the player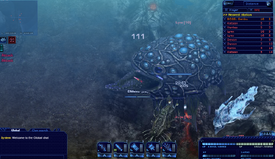 Information
Edit
Subs and NPC's will be arranged in ascending order from weakest to strongest. Zone 1 and 2 npcs are not included, Ventes, Kallish, Crusta, Mythra and Arkatos are also not included. The subs will be ordered based on maximum damage using Elite ammo and not PVP ammo.
Listing is as follows:
Edit
Branka
Elope
Colussus
Moomba
Grendel
Bentu
Wombat
Taiman
Mantakor
Fira
Kumar
Morph
Kaupus
Fungus
Ragnarok, Loreli, Seal
Hexalon
Tisroc
Giganto
Skiatch
Fungari
Gefion
Makar
Ragnarok X, Loreli X, Posideon
Astatine
Aranka
Incubus
Tiamat, Phoenix, Omikron
Rex
Tydeus, Manticore , Omega
Ifrit, Patron, Merkur
Poi
Tydeus X, Manticore X, Omega X
Hollow
Murlov
Tiamat X, Phoenix X, Omikron X
Zipran
Boss Fugu
Valmorus
Diablo SX, Leviathan SX, Warmaran SX
Oplus
Ifrit X, Patron X, Merkur X
Malum
Exoz
Lokum
Vryll
Boss Incubus
Leviathan
Boss Oni
Boss Makara
Boss Flotar
Boss Pyotre
Boss Gorgo
Balancing
Edit
Damage is a singular mechanic not affected by other statistics. Health and SP are inversely proportional. Purchasing Hull instead of Nano Shields or plates offers a bonus to both health and SP but is split in half. 1 200 SP or 1 200 HP vs 600 HP and SP. However the desired effect can be attained by filling all the slots with Either Nano Shields or Steel Plates.
To demonstrate this the numbers are as follows:
A Diablo has 110 hull slots. All equipped the sub will have Either 192 000 HP or 192 000 HP. The diablo, leviathan and warmaran all have the effect because of the default SP is 60 000.